Thanks to
Alice
I was recently inspired to make some Totoro nails! She posted the cutest
Totoro manicure
and as soon as I saw it I knew I had to try it out for myself.
The cute Totoro face is
Alice's design
. The second is a chibi white Totoro, (they are much smaller than regular Totoro.) The third are "Makkuro Kurosuke" and they are sort of like Japanese dust bunnies.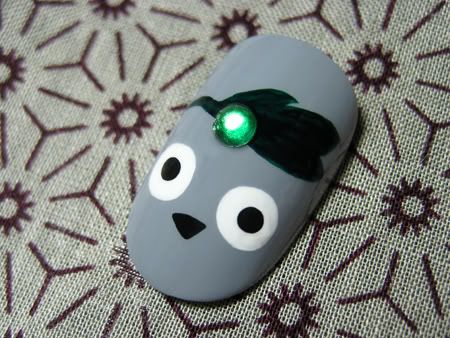 As always, I used acrylic craft paint to make these designs. I attached a gemstone to Totoro's leaf-hat for a little sparkle. The grey polish I used is Diamond Cosmetics "Concrete Jungle."
The green I used for this one is OPI's "Jade is the New Black." I love this polish, it's such a gorgeous color!
These little guys are my favorite of the three designs. I used black acrylic craft paint and dotted the tip of my brush around the edges to make them look suitably fluffy. You can never catch a Makkuro Kurosuke because if you try, you will squish it and find only soot in your hands.
For all three of these Totoro designs I used acrylic paint from
Born Pretty
nail art store. The
box set
pictured comes with 14 colors; I used the dark green, white and black for my Totoro nails. This was my first time using these paints so I'm still testing them out.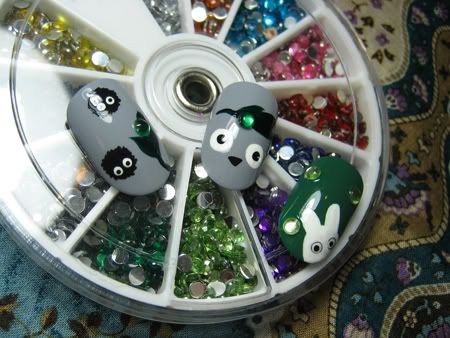 The
gemstones
I used to add a little sparkle are also from the same nail art store. I used the dark green and light green gemstones you can see in the wheel.
Thank you very much to
Born Pretty
for providing me with the products I used to create these nails. (They were a lot of fun to make and I would have put them on my own hands but Alfredo-husband and I are celebrating our five year marriagaversary tomorrow, (Nov. 1st) so I'll be saving this particular design for later. We're going out for dinner so Totoro won't really go with my outfit, haha!)
Have you seen the film "Tonari no Totoro" (My Neighbor Totoro) before?