I love Sanrio and water decals!
Kristine from
Polished Love Affair
sent me the cutest Hello Kitty water decals recently! As soon as they arrived I took off the polish I had on so I could wear a cute Hello Kitty manicure instead. Thank you so much, Kristine! I love them!
I love water decals so much more than regular nail stickers, because they never have a raised or visible edge. They're almost like temporary tattoos for your nails! Some nail stickers can bubble up or refuse to conform to especially rounded nails, but water decals never have that problem.
If you have never tried water decals before and aren't sure how to apply them, I do have a
Water Decal Tutorial
posted that will give you an idea of how they work.
Kristine
also sent me this super cute Hello Kitty nail polish along with the stickers, oh my gosh! I didn't even know they made Hello Kitty nail polish! I just had to use it at the same time as the water decals!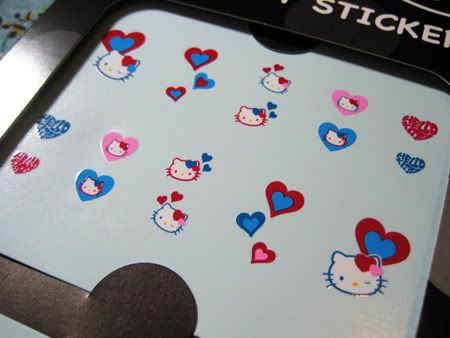 These are the water decals I used; I saved a lot for later too.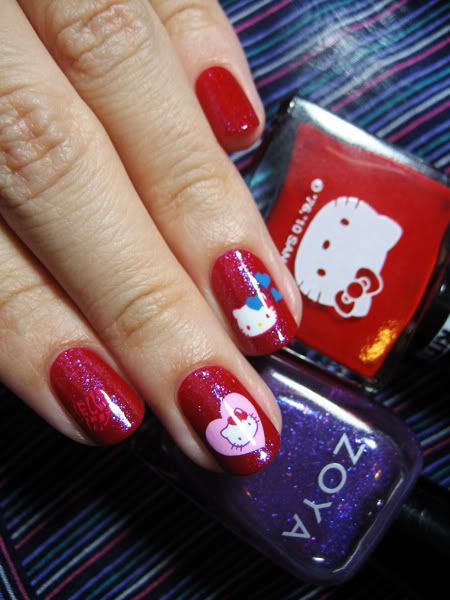 I thought the red hearts might not show up very well over the red polish, so I added one of my favorite sheer toppers, Zoya's "Vegas Freeze" to give the background a bit of shimmer to set it apart from the red hearts. It worked out great and if you don't have any sheer toppers yet, this is one of my favorites.
Have you tried water decals before? If so, do you prefer them to nail stickers like I do?