I wanted to share some swatches of two topcoats I've really been loving lately, Sephora by OPI's "Only Gold for Me" and "Flurry Up!"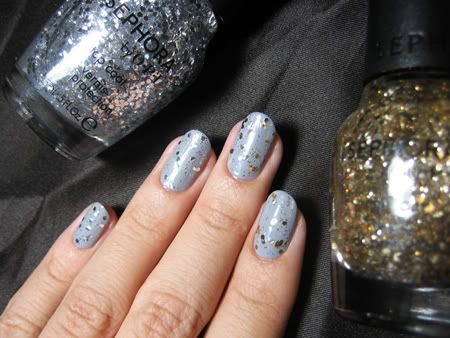 I'm a tremendous fan of what I like to call "sheer toppers" for interesting French manicures or just to spice up plain cremes. When I get a sheer topper like this I always feel like my nail polish collection is instantly larger because of all the new combinations I can make.
When "Only Gold for Me" came out I kept obsessively checking my Sephora but it was always sold out! I asked for it so many times and eventually ended up just ordering it off their website. While I was ordering I saw they had just released a silver version, "Flurry Up!" so I got that one too.
I think these two topcoats look good over anything, even mattified. (A touch of "Flurry Up!" over Lippmann's "Lady Sings the Blues," mattified.)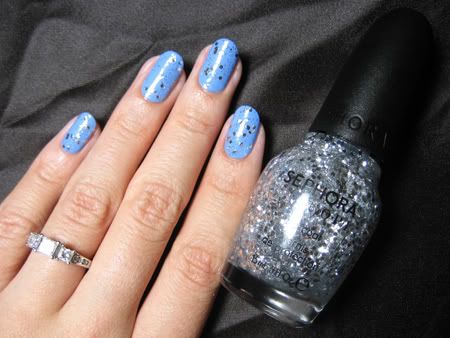 Here is "Flurry Up!" over Orly "Snowcone."
This is "Only Gold for Me" over Zoya "Erika." (This shot shows just how much larger the hexagonal pieces are than standard glitter, which both polishes also contain.)
If you were really feeling Deborah Lippmann's
"Some Enchanted Evening"
either of these would be a great alternative because the hexagonal pieces are the same but these are much cheaper than Lippmann polishes. Plus silver and gold will go with more background colors than pink.
These are billed as topcoats so you don't need to put an additional topcoat over, they dry smooth to the touch so I just wear them as is. I spot ordinary sheer glitters all the time but these large hexagonal pieces stand out much more than standard glitter. They're large metallic embellishments and I really love them both. What do you think of these?