I was in the mood to wear something simple and delicate recently, something with a touch of doily-like detailing but still very classic.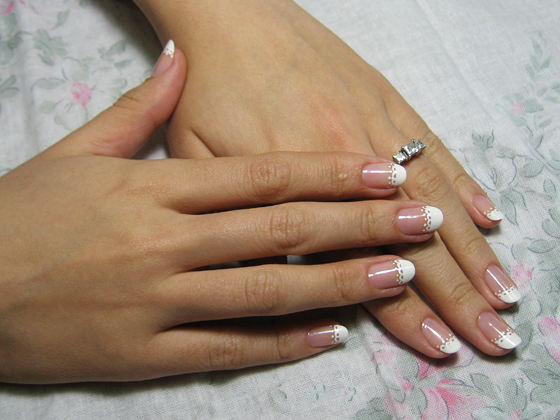 I ended up applying a traditional white French manicure with an added suggestion of white lace to make the transition from nude to white less severe.
Begin by applying your white tips in whatever method you prefer; (my personal favorite are Nailene's Perfect Tips French manicure guideline stickers.) Next, simply draw on your half-loops with a nail art pen or acrylic craft paint, (I used Delta Ceramcoat,) and a tiny paintbrush. This is a continuous "m" motion that touches the line where your tips begin. It is fast and easy once you get started.
Using a dotting tool or makeshift dotting tool such as an unbent paperclip, dip into your acrylic craft paint or white nail polish and add a line of dots above your lace detailing.
Finish with the French manicure topper of your choice, (I used Zoya "Jane,") and a coat of topcoat to protect your design.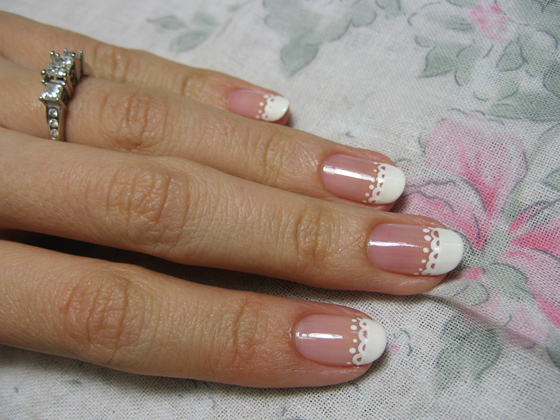 From a distance this design appears to be very detailed but application is actually quite simple. Consider using black instead of white for a "black lace" look if you prefer.
The best thing about subtle nail art like this is that white French manicures are always work appropriate, even if you have added a bit of delicate embellishment.