There are a handful of nail polishes that I associate with certain holidays or events, be it because of their name like, "Happy Birthday" or simply because I wear the same nail polish every single year like, "Don't Toy with Me!" and in my mind they become fastened together.
One of these polishes for me is China Glaze "Four Leaf Clover." I consider it to be the quintessential St. Patrick's Day nail polish.
"Four Leaf Clover" could not be more perfectly named, and it's so fitting to say on St. Patrick's day whenever somebody asks you what polish you're wearing. It's bright and eye-catching enough that no one would dare pinch you for a lack of green.
Pictured is two coats.
It's such a bold, intensely pigmented kelly green that "Four Leaf Clover" is actually quite notorious in the nail blogging world for being incredibly temperamental to photograph. Because this polish contains so much vivid pigment I always double basecoat with this shade, (something I also do for all reds regardless of brand just to prevent any staining that might occur from wearing such intense color.)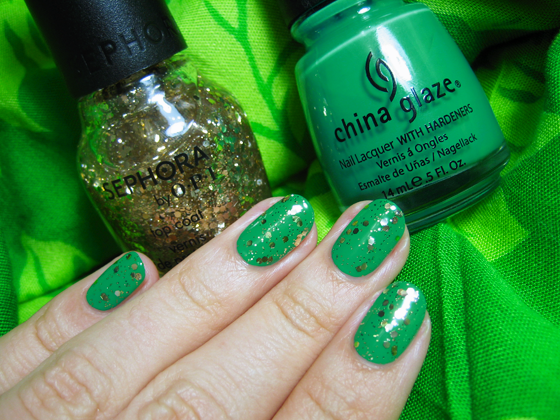 Kelly green always looks beautiful with gold, especially for St. Patrick's Day, so in place of a regular topcoat I chose to use Sephora by OPI's "Only Gold for Me" sheer topper instead. I love sheer toppers and "Only Gold for Me" is one of my absolute favorites. My nails look like a generous scattering of leprechaun gold over some lush, spring grass.
What polish are you wearing for St. Patrick's day?